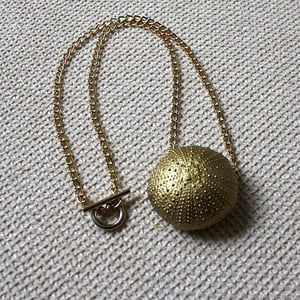 $

40.00
Ultra light gold sea urchin necklace will brighten up your day.

Details
Real washed ashore sea urchin found off the coast of Halifax, Nova Scotia in light gold on a bright gold-coloured chain with a large toggle clasp.
*Note: Chain is not secondhand.
Measurements
Chain length: 12.5"
Placement: Sits slightly below the chest (approximately).
To get an idea of how this necklace wears, click here.